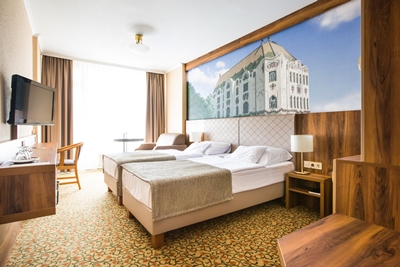 We would like to inform our guests that the Accent-portfolio has been expanded by the Aranyhomok Business-City-Wellness Hotel in Kecskemét.
Our hotel, the Aranyhomok Business-City-Wellness Hotel is located in the heart of Kecskemét, on one of the most beautiful main squares in Hungary, embraced by 5 churches of different denominations. Your stay with us is complimented by a unique view, as our renovated rooms and balconies offer a breathtaking panorama of the historical city centre.
Planning a family holiday, company event, wedding, or birthday party? Leave the details to us – we offer you a wide range of services and the expertise of our colleagues!
Business-City Hotel in the centre of Kecskemét
Our conference rooms provide the ideal venue for both smaller events for families or friends, or larger business conferences. In addition, we offer tailor-made solutions to help organise your event.
Would you like to combine your business trip with a little relaxation? Offers of our wellness centre also include a unique business-relax package for our guests, guaranteed to rest and recharge you.
The business-city-wellness character of our hotel provides the perfect venue for planning and holding smaller or larger events and for creating a complex experience package:
the facilities of our well-equipped conference rooms provide the suitable technical background to guarantee the success of your event,
thanks to our central location, your stay with us can be complimented by a rich variety of programs,
our wellness and spa facilities offer real rest and revitalisation to our guests and to visitors of our wellness unit.
Cultural and leisure programs in Kecskemét, the "Famous city"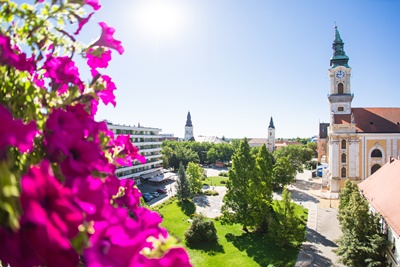 Kecskemét is particularly rich in sights and cultural programs: the noted collections found in our city, such as the Szórakaténusz Toy Museum and Workshop, Kecskemét Art Gallery, Hungarian Museum of Applied Folk Arts, József Katona Memorial House, Planetarium, Leskowsky Musical Instruments Collection, Bozsó Collection, Museum of School History, Hungarian Museum of Naive Arts, Ráday Museum, Hungarian Museum of Photography, Museum of Medical and Pharmacological History, Mineral and Paleontological Collection, Kecskemét Pálinka Distillery and Exhibition, and the "House of Nature" National Park Visitor Centre are just some of the attractions we recommend visiting in our city.
ARANYHOMOK BUSINESS-CITY-WELLNESS HOTEL
H-6000 Kecskemét, Kossuth tér 3.
Phone: +36 76 503 730
E-mail: sales@aranyhomokhotel.hu