Gotthard Therme Hotel & Conference won the Special Award for Outstanding Performance Improvement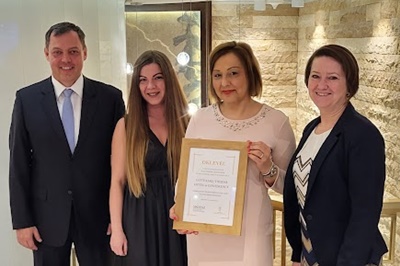 The Association of Hungarian Hotels and Restaurants (MSZÉSZ) has announced the prestigious Hotel of the Year of 2022 competition again at the end of 2022 in professional partnership with the Hungarian Tourism Agency.
The aim of the competition is to highlight those hotels which, in addition to their outstanding economic performance, provide quality services to their guests, have an exemplary human resources policy, protect our environment with sustainable solutions or help those in need with charity actions.
This year, 24 hotels have chosen to compete because they are proud of their high level of service, hotel condition, efforts to improve employee satisfaction, digital improvements and operational performance. The Gotthard Therme Hotel & Conference, operated by Accent Hotels, achieved a good result in the competition, being awarded the Special Jury Prize for Outstanding Performance Improvement.
Congratulations on the progress and success so far and we wish the hotel team continued success!