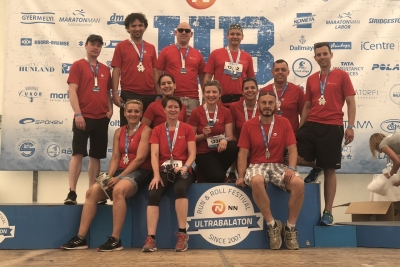 The enthusiastic running team of Accent Hotels has participated in several running competitions in recent years. The biggest aim of the team this year was to run the 221 km distance of XII. Ultra Balaton.
At 2 pm. at the start there was a temperature of about 30 degrees, so the runners didn't have easy circumstances.The mood was fantastic on the changing points where our colleagues encouraged and supported each other. The night running with headlamps, starry sky and a pleasant, cool air guaranteed the best moments of the competition.
Finally the whole team arrived in Club Aliga Resort in 22 hours and 41 minutes.
Team members: Erzsébet Pusztai, Dóra Rajki, Krisztina Rokolya, Anita Sieber, Alexandra Miseta, Ádám Király, Imre Csordás, Péter Kerek, Zsolt Nagy, Zoltán Budavári, István Anisity und András Nagy