We could also host, among others, the well-known gastronomic journalist Wessely Márta at the Károlyi Castle in Fehérvárcsurgó, where the journalist could hear about the history of the family at first hand from Count Károlyi and his wife, Angelica and could also take part in a real gastronomic adventure!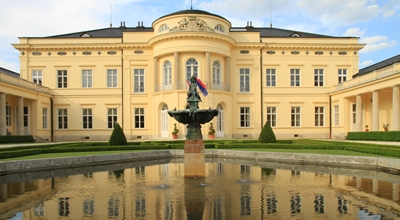 Although I prefer active relaxation in most cases, sometimes, at heart I have a desire for spending a few days in a cool, restful environment, where my biggest problem is, whether I should sunbath in the garden or read a good book while being swayed in the boating lake chasing dreams, or maybe gift myself with a pleasant snack.
The Károlyi Castle in Fehérvárcsurgó, which can be easily and quickly reached from Budapest, might be a perfect choice for those who would like to escape from the everyday life, long for the peace and tranquillity that have never been a part of modern hotels.
The Károlyi Castle is not a typical hotel, but rather a castle that has guest rooms. The Károlyi Castle is history itself that came to life. Here you can unintentionally learn a lot about the past and also gain a lot of knowledge about the present. The connection point of the past and the present is the Károlyi Family, more precisely the Hungarian ambassador to France Mr Károlyi György, who has lived in the castle since the end of the 1990s and does his best endeavours in order that the castle, which is owned by the Hungarian State but operated by himself, could regain its former glory and would be given an appropriate function.
Therefore, the castle does not only provide accommodation to its guests, but they also organise several events, give place for the location of various research programmes, and part of the former salons function as conference hall or auditorium with fantastic atmosphere.
The truly attractive enormous spaces of the castle pleasantly surround you, the patio almost attracts you for a little "doing nothing" and the now renewing 50-acre park, the boating lake, the lace terrace with great panorama and the gloriette, which evokes the most beautiful Agatha Christie novels, all help relaxation, aimless and satisfied rambling and release.
Click on this link for the full report.